Arugula Pesto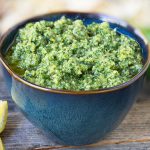 This arugula pesto has a unique peppery bite, thanks to the addition of fresh and spicy arugula. Try this recipe if you want a little extra spice and kick to your traditional pesto! It's terrific as a spread or on pasta, and my favourite is on baguette slices or whole wheat crackers.
1½ cups baby arugula leaves
1½ cups fresh basil leaves
⅔ cup pine nuts
8 cloves garlic
1 6 ounce can black olives (drained)
¾ cup extra virgin olive oil
½ lime (juiced)
1 teaspoon red wine vinegar
⅛ teaspoon ground cumin
1 pinch ground cayenne pepper
salt and pepper to taste
Place the arugula, basil, pine nuts, garlic, and olives in a food processor, and chop to a coarse paste. Mix in olive oil, lime juice, vinegar, cumin, cayenne pepper, salt and pepper. Process until well blended and smooth.
This recipe is great without the typical addition of cheese, but you can add it if you like.