Basil Scones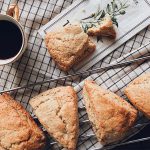 Pastries are a comforting way to start your morning, and these basil scones are sure to be a hit with their unique, herby flavour. They're quick and easy to make and are excellent served with fruit, yogurt and coffee.
2¼ cups all-purpose flour
2 teaspoons baking powder
½ cup cold butter or margarine (cubed)
1 egg
1 cup milk
1 cup Cheddar cheese (shredded )
¼ cup prepared basil pesto sauce
In a bowl, combine the flour and baking powder. Cut the butter in until the mixture resembles coarse crumbs. In another bowl, combine the egg, milk, cheese and pesto. Stir into the flour mixture just until moistened.
Turn onto a lightly floured surface and knead 8-10 times. Transfer to a greased baking sheet. Pat into a 10 inch circle and cut into eight wedges, but do not separate. Bake at 400ºF for 20-25 minutes or until golden brown. Serve warm.