Chamomile Tea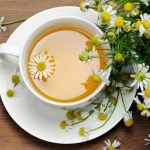 Chamomile has long been used as a traditional remedy for many health conditions. Its benefits include promoting better sleep, better digestion and improving blood sugar levels. This simple recipe makes a delicious chamomile tea that will help you relax and unwind!
1 cup water
1 teaspoon chamomile flowers
Optional
Honey
Lemon juice
White grape juice
Apple juice
Hot Tea
Boil one cup of water in a saucepan. As the water boils, add a teaspoon of chamomile flowers into it. Boil for another minute, with the lid on. Remove from heat and let it sit for one or two minutes, so that the flowers are allowed to steep.
Strain the tea and add honey to sweeten if desired. You may also add a little bit of lemon juice to this tea. To prepare this tea in large quantity, increase the ingredients proportionally.
Iced tea
Prepare tea as per the instructions mentioned above. Once you remove the tea from heat, strain and let cool. Refrigerate before serving.
You may want to add some white grape juice and apple juice (instead of lemon juice) to this tea. For a cup of chamomile tea, you can add 4 tablespoons each of both juices. Mix them well and add honey. Place ice cubes in serving glasses and pour the tea over them.
To make a more interesting tea, add a few leaves of lemon balm with your chamomile flowers.