Cherry Tomato and Basil Salad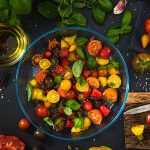 This refreshing tomato and basil salad is a great way to make use of your bumper crop of tomatoes. The fresh herbs give it an Italian twist, and bring out the natural flavour and sweetness of the tomatoes. Serve as an appetizer or a side for steak, chicken and pork.
1-2 cups cherry tomatoes (all sizes and colors)
½ cup basil (chopped)
1 small bunch of chives
1 sprig of thyme
½ hot red pepper
aged balsamic vinegar
salt and pepper
Halve the cherry tomatoes and put them in a bowl. Sprinkle with a little salt and pepper to taste. Set aside.
Finely chop the herbs and hot pepper. Add to your tomatoes and mix. Add balsamic vinegar to taste and mix again.
Chill in the refrigerator for about a half an hour.