Cuban Mojito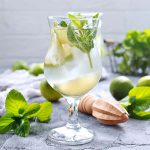 Grab a taste of the Caribbean and take the edge off with this refreshing, sweet and citrusy beverage. It's an original, authentic recipe from Havana, Cuba. Fresh mint leaves and white rum are paired with lime juice and sugar for the perfect Cuban mojito.
1 teaspoon powdered sugar
1 lime (juiced)
4 leaves Mojito mint
1 sprig mint
2 ounces Havana Club white rum
2 ounces club soda
Place mint leaves into a long Mojito glass and squeeze the juice from a cut lime over them.
Add powdered sugar.
Gently smash the mint into the lime juice and sugar with the back of a spoon.
Add crushed ice and pour in rum. Stir.
Top off with the club soda to taste.
Garnish with a sprig of Mojito mint and enjoy!