Easy Canned Tomato Salsa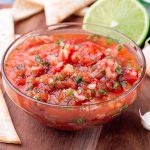 Tomato salsa is a great way to use up those extra tomatoes from your garden, and it's a delicious and healthy treat to enjoy with crackers, bread, pizza and even sandwiches. Go ahead and give this recipe a try for your next snack! It can also be canned for use all year!
8 cups tomatoes (chopped)
2 cups onion (chopped)
1 cup hot peppers (chopped)
2 large cans tomato paste
2 cups vinegar
2 tbsp salt
¼ cup sugar
1 tbsp paprika
6 cloves garlic (chopped)
¼ cup fresh basil or cilantro (chopped)
2 tbsp thyme or oregano
Chop tomatoes with chopper and put in cheese cloth to drain out excess juice. (You can save the extra tomato juice for soup!)
Put in a large pot with all other ingredients.
Bring to a slow boil, add fresh herbs and boil about 5 minutes.
This recipe can be canned so you can enjoy fresh salsa year round!
If using dried herbs, add them with all other ingredients.