​
Grilled Pork Tenderloin Stuffed with Goat Cheese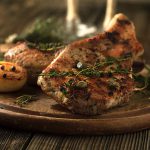 You'll definitely want to add this recipe to your favourites! These grilled pork tenderloins are stuffed with goat cheese and seasoned with fresh herbs. It's a gourmet meal you'll want to serve again and again! You can also try this cheese stuffing in chicken for a delicious alternative.
6 pork tenderloins
½ cup Chavrie goat cheese
3 tablespoons of olive oil (divided)
½ clove garlic (crushed)
1 bunch chives
1 small bunch sage
3 sprigs rosemary
3 sun dried tomatoes (chopped)
salt and pepper
Finely chop herbs and set aside ¼ of them to season the meat with later.
In a bowl, cream the goat cheese with one tablespoon olive oil. Mix in herbs, garlic, chopped sun-dried tomatoes and a pinch of salt and pepper.
Preheat your grill while preparing the next steps.
Trim the fat off of the pork and cut a small pocket through the side, being careful not to cut all the way through.
Evenly divide your cheese mixture between the 6 tenderloins. You may want to use a toothpick to close the sides after stuffing.
Combine the remaining herbs and two tablespoons of olive oil. Coat the pork evenly with the oil and herb mixture, season with salt and pepper to taste, and barbecue.
Be careful not to overcook your pork! Take meat off the heat while it is still juicy to prevent overcooking.