Lemon Verbena Vinaigrette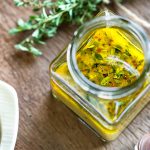 While lemon verbena's amazing flavour is often captured in herbal teas, its bright taste is also delicious in vinaigrettes and dressings. This recipe uses oregano to complement the lemon aroma, making it perfect on salads, fish and chicken.
¼ cup red wine vinegar
2 tablespoons Dijon mustard
3 teaspoons fresh chopped Sweet Valley oregano
1 clove minced garlic
½ teaspoon sea salt
¼ teaspoon ground black pepper
¼ cup olive oil
¼ cup infused lemon verbena oil
Whisk together the red wine vinegar, Dijon mustard, oregano, garlic, salt and pepper.
Combine your two oils gently whisking. Slowly pour olive oil into the vinegar mixture whisking briskly.
Pour dressing into a mason jar or bottle, seal and shake until the dressing is emulsifies.