Stevia, Sweeter than Sugar
Stevia, 'the herb sweeter than sugar', is hundreds of times sweeter than sucrose, making it an excellent low-calorie sugar substitute. Cooking with Stevia does require a learning curve, but since the advantages of reducing your sugar intake are so important, it is well worth the effort. Stevia is delicious in almost any recipe using fruit or dairy products, but can be challenging when used in baking.
It is important to remember not to use too much Stevia as it will result in excessive sweetness and an aftertaste. Always start with the exact amount called for in the recipe, or even a little less.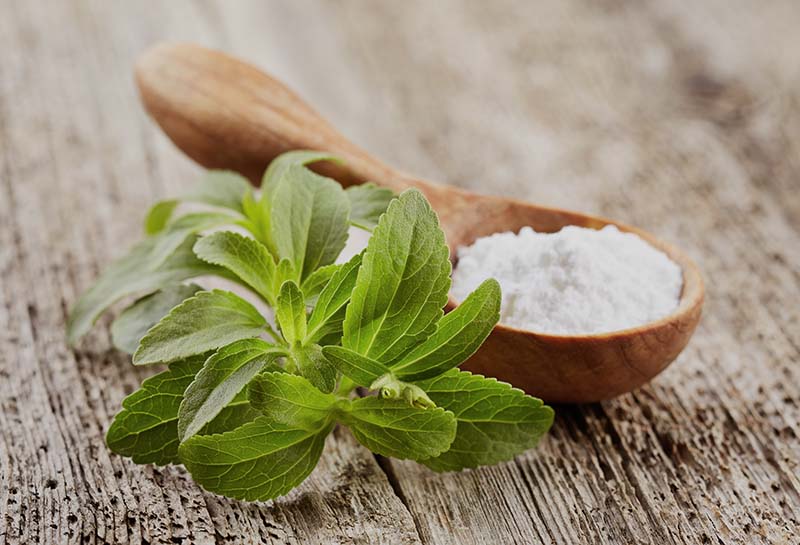 Try growing Stevia yourself!
Stevia can be grown in your garden or on your balcony and serves as an excellent point of conversation. When growing it, start with a Sweet Valley transplant. It can be difficult to grow it from seed and is usually grown best when a well established starter plant is used.
Remember that tender young Stevia plants are especially sensitive to low temperatures. Wait until the last chance of frost before planting it outdoors. Plant in full sun about 20 inches apart, to give your plants space to grow. They'll reach a height of about 30 inches and a width of 18 – 24 inches.
Caring for and Feeding your Stevia
Stevia plants do best in rich soil. They have shallow roots, so it is a good idea to add compost if the soil in your area is sandy. Frequent light watering is recommended during the summer months, but be careful not to overwater as they do not like wet feet.
Harvesting Stevia
Harvest your Stevia as late as possible, since the cool temperatures intensify the sweetness of the plants. Cut off the branches and strip the leaves from the branch. Dry them in a sunny location, preferably on a screen for good air circulation. Crush the leaves by hand or in a grinder.
Or you can use fresh stevia leaves to make a healthy liquid stevia extract that can be used to sweeten drinks, cereal and baking!