Traditional Bruschetta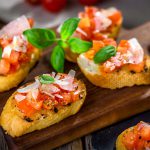 Our traditional bruschetta is simple and easy to make, but packed with delicious ingredients and fantastic flavour. Serve as a simple lunch or an appetizer for your dinner party. It's easy to pull off and your guests will appreciate this little taste of Italy!
8 diced roma tomatoes (other varieties will work too)
⅓ cup red onion (diced)
1 bunch fresh basil
3 cloves garlic (chopped)
½ cup balsamic vinegar
½ cup olive oil
1 dash salt & pepper
¼ cup fresh parmesan cheese
1 sliced loaf of long French bread
Dice tomatoes, red onion and garlic and put into a medium sized bowl. Set aside. In a food processor, chop basil until very fine. Add to tomato mixture. Add balsamic vinegar, oil, salt and pepper and mix well.
In the meantime, grill or broil the bread until just toasted. Scoop on Bruschetta topping, sprinkle with parmesan cheese and return to the oven until cheese is melted. Serve and enjoy!