Apple and Sage Stuffed Pork Tenderloin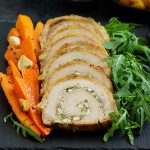 My husband and I recreated this dish after trying it at a quaint restaurant on Cape Breton Island. It was one of the best meals we've ever had, and we love this recreation of the flavours and textures we enjoyed that night. It's wonderful when served with roasted carrots or squash.
1 pork tenderloin
salt and pepper (to taste)
3 tablespoons your favourite pork dry rub
2 tablespoons butter
1 apple
1 rib celery
¼ onion
2 tablespoons fresh sage (finely chopped)
¼ cup breadcrumbs ((substitute almond flour for a gluten free version))
Preheat the oven to 350°F. Chop the apple and vegetables. (The smaller they are cut, the easier it is to spread the filling and roll the tenderloin.)

Roll cut the pork tenderloin so it's about ½ inch thick. Season both sides with salt and pepper to taste. Rub 1½ tablespoons of your favourite pork dry rub onto each side of the tenderloin. Melt 1 tablespoon of butter in a frying pan over medium to high heat. Sear the meat for about a minute on each side. Remove from heat.

Prepare the stuffing by melting 1 tablespoon of butter in a frying pan over medium heat. Add the chopped apple, celery and onion and saute until soft. Stir in the fresh sage and breadcrumbs, and remove from heat.

Spread the stuffing mixture over the flat surface of the pork tenderloin, creating an even coating. Roll the pork tenderloin, starting on the shorter edge. Secure it with toothpicks or cooking string and place it back into the frying pan you used to sear it, or a on a parchment lined baking sheet if your fry pan is not oven safe. Place it in the oven and cook until the internal temperature reaches 145°-160°F.

Remove the toothpicks, slice the tenderloin and serve!
This dish is amazing when served with roasted carrots or squash!
Follow this tutorial to learn how to roll cut a pork tenderloin.