All Recipes
Since the beginning of time, the art of cooking has evolved and expanded to bring different culinary styles and ethnic flavours to our tables. Food brings people together and gives us common interests and connections, and entire experiences have been created in celebration of the evolution of culinary arts.
Chefs spend their lifetimes devoted to finding the perfect symbiosis of flavour, texture and visual appeal. And home cooks strive to bring healthy meals that each member of their family will appreciate. Friendships form over well-crafted dinners and business connections are solidified while enjoying refreshing drinks and delectable finger foods.
Whether you're just learning how to cook, or you're an experienced home cook, we hope our collection of healthy recipes will inspire you to create a new dish for your family or social gathering! From breakfast with a refreshing drink through dinner and dessert, there's something for every occasion.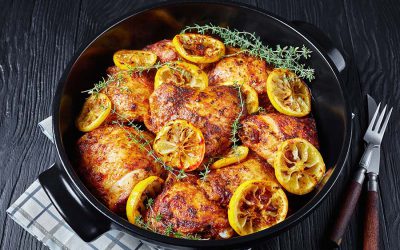 Enjoy citrusy, yet earthy flavours with these deliciously crispy baked chicken thighs! You only need a few basic ingredients, but the results are mouthwatering! Serve with roasted vegetables, lemon infused rice and a garden salad for the perfect meal.