Lemon Rosemary Cookies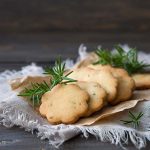 These lemon rosemary cookies combine the delicious refreshing flavours of lemon with earthy pine-like hints of rosemary. Chosen by chefs as a simply delectable treat for any occasion!
1 cup butter softened
1 cup white sugar
2 eggs
1-2 tsp fresh rosemary (finely chopped)
1 tbsp lemon zest
2 tbsp lemon balm or lemon verbena
3 cups of flour
½ tsp baking powder
1 pinch of salt
Cream the butter, sugar, rosemary, lemon zest, and lemon herbs.
Combine the dry ingredients and mix with the butter mixture.
Shape dough into 2 rolls about 2 inches in diameter.
Put in freezer for ½ hour.
Take 3 or 4 tbsp of sugar and mix with grated rind of 1 lemon.
Roll cookie dough into the above mixture and slice ¼ inch thick.
Bake at 375ºF for 10 –12 minutes.