Italian Sausage Pasta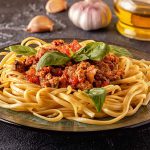 This Italian sausage pasta is a quick and easy skillet meal that makes a great weeknight dinner. Delicious chunks of Italian sausage are combined with tomatoes, pesto and pasta for a healthy and comforting meal. Your family will love every bite!
¼ cup fresh pesto or chopped basil
½ cup diced sweet onion
3 cooked Italian sausages (cut diagonally)
1 clove of garlic (if not using pesto)
1 540 ml Aylmer® petite cut tomatoes with spicy red pepper
1 pinch salt and pepper
½ package of your favourite pasta (cooked "al dente")
In a large skillet or sauce pan, heat 1 teaspoon oil and add sausage and onions. Sauté until onions are glossy, adding garlic if not using pesto. Sauté a few minutes more.
Add canned tomatoes and simmer on medium for 5 – 10 minutes. Toss in pesto or fresh basil and simmer 2-3 minutes on low.
Add your pasta and completely cover with the sauce. Serve.