Easy Greek Salad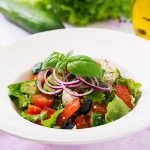 Use fresh tomatoes, cucumbers, peppers and lettuce from your garden to make this easy Greek salad! Makes a great side dish for any meal and combines the best flavours of Greek cuisine. Serve with chicken, fish and pita bread.
6 large basil leaves (chopped)
3 sprigs oregano (chopped)
2 cloves garlic (finely chopped)
1 tsp sugar
⅓ cup balsamic vinegar
⅔ cup olive oil
1 package feta cheese
Salt and pepper to taste
Enough veggies to fill a medium-large sized salad bowl
3-4 vine-ripened tomatoes
1 english cucumber
½ red onion
½ head Boston or baby bib lettuce or Sweet Valley simply salad
½ bell pepper
½ cup black olives
Chop veggies into smaller than bite size pieces.
Mix together in a large salad bowl and place in the refrigerator.
In a large measuring cup combine olive oil and balsamic vinegar. Add garlic, chopped basil, and oregano. Add sugar and salt and pepper to taste. Stir vigorously with fork.
Add dressing to veggies and mix to cover. Add one package of feta cheese coarsely crumbled or cubed. Mix, chill and toss before serving.