Grilled Fruit Kebabs with Basil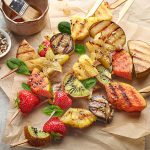 Kebabs are a popular way to grill chicken, beef and vegetables. But have you ever tried grilled fruit kebabs? They are simply scrumptious! These kebabs alternate fresh fruit with basil leaves for a sweet and herby flavour that is excellent as an appetizer, side dish or even dessert!
2 cups fresh fruit (cut into large pieces)
1 bunch fresh basil
2 tablespoons honey
1 teaspoon balsamic vinegar
½ teaspoon vanilla extract
pinch of sea salt
grape seed oil
Gently slide each piece of fruit onto a metal or wooden skewer. If using wooden skewers, soak them in water for 10 minutes first. Alternate fruit pieces and basil leaves. Set aside.
In a small mixing bowl whisk together the honey, vinegar, vanilla, and pinch of sea salt. Set aside.
Preheat the grill or barbecue. Brush a little grape seed oil onto the flat surface of each piece of fruit.
Once the grill is hot, place the skewers on. Make sure you hear a sizzling sound, and if not, heat your grill up more. Grill about 30 seconds on each side. Place skewers on a plate and brush with the glaze while still hot.
Remove from skewers to serve.
This is amazing served over vanilla bean ice cream!