Cilantro Lime Grilled Chicken Burgers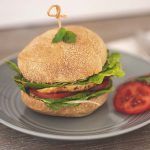 Cilantro and lime are always a popular pairing, and what's better than a delicious lunch sandwich that incorporates these flavours? This recipe is adapted from one of Better Homes & Garden's recipes, but with a slightly different twist. Smoky, but bright and citrusy at the same time, these grilled chicken burgers are light on the tastebuds and not as heavy as traditional beef burgers.
2 skinless, boneless chicken breasts
¾ teaspoon salt
¼ teaspoon pepper
¼ cup fresh cilantro leaves (chopped)
1 tablespoon finely grated lime zest
3 tablespoons freshly squeezed lime juice
2 tablespoons olive oil
1 tablespoon honey
¼ cup ranch dressing
4 hamburger buns
4 lettuce leaves
½ thinly sliced onion
2 thinly sliced tomatoes
½ thinly sliced cucumber
1 thinly sliced avocado
Halve the chicken breasts horizontally. Place in a bag along with salt, pepper, cilantro, lime juice, lime zest, olive oil and honey. Seal the bag and turn several times to coat chicken with the marinade. Marinate in the refrigerator for 1-4 hours.

Preheat your grill and remove chicken from the marinade. Grill over medium heat for 7-8 minutes until the chicken is no longer pink and the internal temperature is 165°F. Brush the cut sides of your hamburger buns with olive oil and grill, cut side down for a few seconds or until lightly toasted.

Spread buns with ranch dressing, then assemble. Place lettuce, then chicken on the bun and top with tomatoes, cucumbers, avocados, onions and more ranch dressing.