Greek Pasta Salad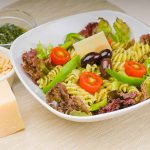 This Greek pasta salad is easy to put together and can be made ahead of time. It makes a great side for steak, chicken and burgers, but can also be made into a full meal by adding grilled chicken to it. It's a fresh and delicious taste of Mediterranean cuisine!
375 grams Rotini® tri-colour vegetable pasta
½ cup freshly chopped basil
A few sprigs oregano (finely chopped)
A few sprigs thyme (finely chopped)
A handful fresh baby spinach
10 olives
½ cup diced English cucumber
¾ cup halved cherry tomatoes (or diced tomatoes)
½ small red onion (diced)
½ small red or green pepper (diced)
½ cup shredded carrots
¼ crumbled feta cheese
½ cup Greek salad dressing
Cook pasta. When done, run under cold water to quickly cool. Set aside in the refrigerator.
Mix all remaining ingredients together and add dressing to taste. Sprinkle with sea salt and fresh peppercorns.
Toss dressed vegetables into the chilled pasta and serve.