Tomato Basil Frittata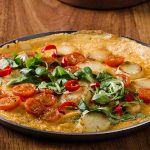 This tomato basil frittata, also known as an Italian omelette, is the perfect recipe to prepare for breakfast, brunch or even dinner. It is another go-to tomato basil recipe.
6 large eggs
1/2 cup milk
1 tablespoon extra virgin olive oil
2 large Roma tomatoes (sliced)
1 pound fresh mozzarella cheese (sliced)
10 fresh basil leaves coarsely chopped
Salt and pepper to taste
Preheat broiler to high.
In a large mixing bowl, beat eggs with the milk. Add olive oil to a very large skillet over medium heat. Pour in the egg mixture.
Lay the tomato slices, cheese, and basil over the egg mixture, trying to cover the entire surface. Alternate the tomato, cheese and basil (you may not need to use all of the cheese). Season with salt and pepper.
When the bottom begins to brown, place the skillet under the broiler for 1 to 2 minutes, just until the top is set. Remove from the oven and transfer to a cutting board to cool for about 10 minutes. Cut into wedges and serve.