Baked Lemon and Thyme Chicken Thighs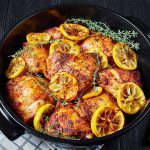 While chicken breasts are one of the most popular cuts of chicken, we'll have you know that thighs are incredibly moist and flavourful, and much easier to cook to! These baked chicken thighs are marinated with lemon, thyme and garlic, then seared to achieve a crispy skin before being baked to perfection in the oven.
4 chicken thighs
1 teaspoon salt
½ teaspoon pepper
½ lemon (juiced and zested)
½ lemon (sliced)
1 bunch fresh thyme
2-3 cloves garlic (chopped)
2-4 tablespoons butter
Strip the thyme leaves off the stems until you have about ¼ cup of leaves. Place them on a cutting board and chop them lightly to help release their flavour.

Place the chicken thighs, salt, pepper, lemon juice, lemon zest, chopped thyme leaves and chopped garlic cloves in a bag and rotate several times to evenly coat the chicken. Seal and place in the refrigerator for 1-4 hours to marinate. Remove from the refrigerator about 20 minutes before cooking them.

Preheat the oven to 350°F. Melt 1 tablespoon of the butter in a cast iron (oven-safe) frying pan over high heat. Remove the chicken thighs from the bag, leaving any extra marinade juices for later. Place the chicken, skin-side down, in the frying pan and sear for about 2 minutes. Flip the chicken and sear the other side.

While the other sides are searing, pour the extra marinade juice into the pan along with several sprigs of fresh thyme, and more butter if needed for basting. Using a spoon, and tilting the pan to let the liquids pool on one side, baste the tops of the chicken thighs (for about 1 minute). Place the slices of lemon on top of the thighs and transfer the entire pan to the oven. Bake until the internal temperature reaches 165°F.
Delicious served with roasted vegetables!