Turkey Meatballs with Creamy Basil Sauce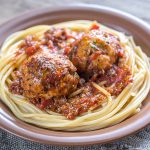 Meatballs can be made with a variety of meats. These turkey meatballs are served with a creamy basil sauce and are leaner than beef meatballs. They are super moist on the inside and are delicious on whole wheat pasta with a side of tender green beans.
Meat balls
1 pound ground turkey
2 egg whites
3 crushed Ryvita® rye crackers
1 clove of garlic
1 bunch of basil
A few sprigs of thyme
¼ cup chives
Olive oil
Sauce
Fresh tomatoes cooked until tender
Asiago cheese
Ceasar dressing
Basil
Preheat the oven to 375º F.
Combine the meat ball ingredients, form into balls, and bake for 15-20 minutes until no longer pink in the center.
While the meatballs are cooking, cook the tomatoes until tender in a large saucepan. Remove from heat, and add the remaining ingredients.
Add meatballs to the skillet and spoon sauce over the meatballs.
Add fresh herbs to taste. The more the better!