Mike's Ultimate Basil Garlic Paste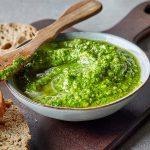 Adding fresh basil to any pasta is amazing, but adding this basil and garlic together gives your dish an intense boost of flavour. This paste can be prepped and refrigerated for a few days.
1 med bulb of garlic
12 basil leaves
3 tablespoons of extra virgin olive oil
Peel garlic and smash into a paste.
Finely chop 12 basil leaves.
Place garlic and basil in a small mixing bowl then add 3 tablespoons of Extra Virgin Olive Oil.
Mix with a fork and you're done!
A small food processor works well to mix the ingredients.
Other herbs that go well with garlic are rosemary, thyme, sage and more. Try different herbs to achieve different flavours.