Classic Thanksgiving Stuffing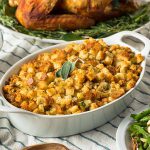 For those who haven't completely given up on homemade stuffing, this recipe and its tasty variations will set you in the right direction. It's a Thanksgiving stuffing that is delicious and simple to make, and will bring people together around your dinner table. Use fresh herbs for the best flavour!
1 pound loaf crusty Italian or French bread (cut into ½ inch cubes)
4 tablespoons butter
2 onions (diced)
2 celery stalks (diced)
¼ cup fresh parsley leaves (minced )
2-3 tablespoons fresh sage (chopped )
2 tablespoons fresh thyme leaves (chopped )
¾ teaspoon salt
½ teaspoon ground black pepper
2 cups low-sodium chicken broth
2 large eggs
1/4 cup Craisins
Spread bread cubes in a single layer on two large sheet pans, and let dry for a few hours or overnight. Adjust oven racks to lower and upper-middle positions. Heat oven to 400 degrees F. Bake bread until golden, or about 12 to 15 minutes. Reduce heat to 350 degrees F.
Heat butter in a large skillet over medium-high heat. Add onions and celery. Saute until soft, 8 to 10 minutes.
In a large bowl, mix bread, vegetables, and remaining ingredients. Turn into a greased 3-quart baking dish. Cover with foil and bake 30 minutes until steamy. Remove foil and bake until crusty, 10 minutes longer. Serve immediately.
If drying and toasting bread is too much trouble, try using unflavoured croutons or bread cubes.