Turkey Croissant Sandwich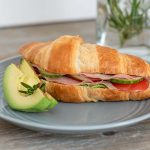 Serve up an elegant sandwich for lunch or afternoon tea with this turkey croissant! Fresh herbs and traditional sandwich ingredients along with turkey and the butter croissant make a delectable finger food or packed lunch.
1 croissant
2 tablespoons ranch dressing or mayonnaise
1 teaspoon fresh lemon juice
1 teaspoon fresh thyme (finely chopped)
1 teaspoon fresh rosemary (finely chopped)
2 slices cheese
2 leaves lettuce
4 slices turkey deli meat
4 slices tomato
sliced onion
sliced avocado (for garnish)
Combine the ranch dressing, lemon juice and chopped thyme and rosemary. Cut the croissant in half and spread with the ranch dressing mixture. Place a slice of cheese on each half of the croissant, and broil in the oven for 1-2 minutes to melt the cheese and give the bread a nice toasted flavour.

Remove from the oven and layer lettuce, turkey, tomatoes and onion slices on the bottom half of the croissant. Place the other half of the croissant on top and serve with sliced avocados.
Add a little Greek yogurt to your ranch dressing mixture to help thicken it and add a nice tangy bite!