Herb Roasted Lamb Shoulder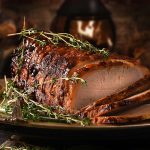 Fresh herbs are the star of this herb roasted lamb shoulder recipe. The key is to use garden fresh, not dried, herbs for an exquisitely flavourful roast. You can also add a splash of wine for some added depth. Enjoy with vegetables and fried potatoes.
1 lamb shoulder
1½ heads garlic
1 bunch thyme
1 bunch oregano
1 bunch sage
1 bunch rosemary
1 bunch basil
½ bunch mint
Salt and pepper
Preheat oven to 250º F
In a roasting pan, line the bottom with half of the seasonings and place the lamb shoulder on top. Season lamb with salt and pepper, then top with remaining ingredients. Add a splash of wine if you like.
Cover and cook for 4-6 hours, depending on size of meat. Serve with fresh vegetables.
Break the garlic apart without peeling, and throw the herbs in, stem and all. Tasty!
This is rough cooking time. Use a meat thermometer to determine when it's done.