Lavender Sugar Cookies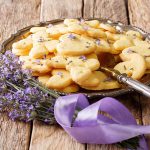 Lavender not only smells heavenly – it adds a deliciously sweet and floral flavour when added to drinks and desserts. These lavender sugar cookies are the perfect dainty sweet for any occasion and they smell and taste delightful. They're easy to make and the fresh lavender buds make these cookies look and taste gourmet!
2 sticks butter or margarine (room temperature)
1 cup granulated sugar
½ teaspoon salt
2 eggs (well beaten)
2 teaspoons pure vanilla extract
2-3 teaspoons fresh lavender buds
2½ cups all-purpose flour
Cream the butter, sugar, and salt until light and creamy. Add the beaten eggs and vanilla. Mix well. Add in the flour mixing on low speed, just until the dough is starting to form. Gently fold in the lavender.
Divide the dough into two rounded sections. Wrap well in plastic wrap and chill for at least one hour.
Preheat oven to 375 degrees. Place the chilled dough sections on a floured surface. Roll out the dough with a floured rolling pin, taking care not to overwork it. Cut the dough into desired shapes and place them ½ inch apart on an un-greased cookie sheet. Bake for 6-8 minutes until just golden brown. Cool on rack.