Creamy Chive Dressing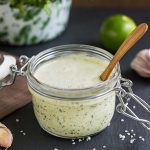 My family loved this creamy and tangy chive dressing! It can be whipped up in just a few minutes and stored for several days in the refrigerator. It's delicious on mixed greens, chicken salad, salmon and sliced tomatoes, and can also be used as a vinaigrette or marinade for meats.
½ cup mayonnaise
½ cup sour cream
⅓ cup fresh chives (chopped)
1 green onion (chopped)
1 clove garlic (peeled)
1 tablespoon tarragon vinegar
1 teaspoon fresh tarragon (chopped)
1 teaspoon white sugar
1 teaspoon Worcestershire sauce
In a blender or food processor, combine mayonnaise, sour cream, chives, green onion, garlic, vinegar, tarragon, sugar and Worcestershire sauce.
Blend until smooth.
Season to taste with salt and pepper.
Cover and refrigerate until serving.
It will keep up to three days in the refrigerator.