Loaded Breakfast Omelette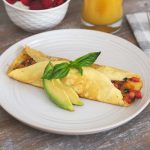 Add some extra flavour and protein to your breakfast omelette by loading it with fresh herbs, onions, peppers, tomatoes and cheese! This easy recipe will get your morning off to a great start, and can also be used for a simple lunch or dinner as well!
2 tablespoons butter
2 tablespoons onion (chopped)
½ bell pepper (chopped)
½ clove garlic (finely chopped)
1 tablespoon fresh basil (finely chopped)
1 tablespoon fresh oregano (finely chopped)
2 eggs (beaten)
salt and pepper (to taste)
⅓ cup grated cheese (a nice herb cheese will add great flavour)
1 small tomato (chopped)
sliced avocado (for garnish)
Melt 1 tablespoon of butter in a frying pan over medium heat and saute the onion and pepper for a couple minutes until softened. Add the garlic and chopped basil and oregano, mix well and then remove from heat. (You don't want the fresh herbs to stay over the heat for too long, or they will lose their flavour.)

Transfer the mixture from your frying pan to a small bowl and return pan to the stove over medium to low heat. Add a tablespoon of butter to the pan and let it melt. Season your beaten eggs with salt and pepper to taste. (You don't need a lot to flavour eggs.)

Pour the eggs into the frying pan and spread evenly over the entire pan. Let them sit for a minute, then spread your grated cheese in a strip across the centre. Tilt the pan to allow any uncooked eggs to flow to the edges of the pan.

When the eggs are almost set on the surface but still look moist, spread your cooked vegetables and herbs and your chopped tomato in a strip on top of the cheese. Using your spatula, fold the omelette in thirds by folding one side of the omelette over the filling, and then the other side. Transfer to a plate, garnish with sliced avocado and enjoy!