Lemon Verbena Iced Tea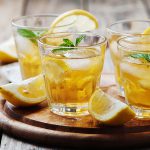 This lemon verbena iced tea is infused with a sunny citrus flavour! It's simple to make, but ever so delicious, and a great twist to the popular iced tea drink. Lemon verbena has relaxant qualities and is known to sooth the stomach and calm the mind. So grab a glass of this refreshing tea and let it rejuvenate you!
20 stems lemon verbena
1 cup granulated sugar
12 cups water
3 lemons
1½ cups green tea or your favourite black tea
1 bunch fresh spearmint
Prepare 6 glasses or bottles by putting a couple verbena stems in each, and place the remainder of the stems in a large pot. Add the sugar.
Quarter 1 lemon and add to the pot.
Add water, bring to a boil, and leave to simmer for about 2 minutes until slightly syrupy.
Remove from heat, discard lemon, and set aside to cool.
While it is cooling, pour about an inch of your green or black tea, some mint leaves, and 1/4 lemon into each glass or bottle.
Juice the remaining lemon and use it to season your cooled lemon verbena syrup. Add additional sugar if necessary.
Strain syrup using a funnel, pour about 2 tablespoons into each of your glasses and let them cool in the refrigerator.