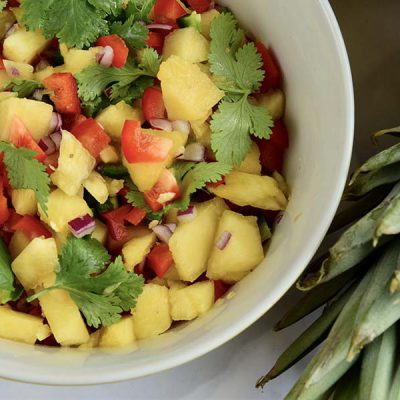 Pineapple Sage Salsa
The perfect way to enjoy the flavours of summer! This pineapple sage salsa has a tropical vibe with its juicy pineapple chunks, complemented by the lemon, eucalyptus and minty hints of fresh sage.
Ingredients
2

cups

fresh pineapple cut into ½ inch pieces

½

cup

sweet red pepper

¼

cup

sweet onion

finely chopped

½

teaspoon

chipotle pepper

crushed (hot chili peppers can be substituted)

¼

cup

pineapple sage flowers

coarsely chopped or 1 cup chopped pineapple sage leaves

⅛

cup

parsley leaves

for garnish
Instructions
Mix all ingredients together and refrigerate 12 hours to get all of the flavours and juices extracted. Mix again before serving and garnish with parsley leaves.
Notes
To get ¼ cup of flowers, you'll need 20 or more flower stems of pineapple sage.
Serve with Tostito® scoops or use on seafood or pork.
Believe it or not, it tastes pretty good on on ice cream too!. You might consider eliminating the onions, even though they're sweet.