Lemon Basil Fruit Dressing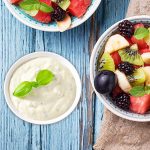 This is a tempting fruit dressing from Carol Gano of Ballwin, Missouri. The addition of basil makes it deliciously different, and honey balances the tart citrus taste. With the consistency of nectar, it enhances the natural goodness of any fresh fruit medley!
½ cup yogurt
½ cup sour cream
3 tablespoons orange juice
2 tablespoons minced fresh basil
2 tablespoons honey
1 tablespoon lemon juice
1 tablespoon lime juice
7½ cups assorted fresh fruit
In a bowl, combine all the ingredients except the fruit until blended.
Place fruit in a serving bowl and serve with dressing.