Chef Aaron's Perfect Basil Pesto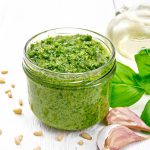 One of the best things about summer is all the fresh herbs available right outside your door! Make a big batch of this basil pesto and use it on pasta, vegetables, salads, breads and pizzas. There are a million ways to use pesto and it adds a punch of flavour to your dishes! You can also freeze this recipe for later use.
2 cups fresh basil leaves (packed)
½ cup Parmesan cheese
½ cup extra virgin olive oil
1/3 cup pine nuts
3 medium sized garlic cloves (minced)
Salt & freshly ground pepper to taste
Combine basil with nuts and pulse a few times in food processor. Add garlic, pulsing a few times more.
Slowly add the olive oil in a constant stream while the food processor is on. Scrape down sides.
Add grated cheese and pulse again until blended. Be careful not to over blend. Add salt & pepper to taste.
If you are freezing your pesto, add a little extra olive oil on top to keep your pesto green.