Traditional Ham Wrap Sandwich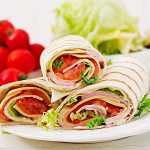 This ham wrap makes the perfect packed lunch or quick midday meal! You only need a few ingredients, but the flavours are amazing, thanks to the addition of fresh herbs.
1 large tortilla
2 tablespoons ranch dressing or mayonnaise
1 teaspoon fresh lemon juice
1 teaspoon fresh basil (chopped)
1 teaspoon fresh oregano (chopped)
2 leaves lettuce
3 slices ham
3 slices cheese
4 slices tomato
6 slices cucumber
Combine the ranch dressing, lemon juice and chopped basil and oregano. Spread the mixture over the tortilla. Layer ham, lettuce, tomatoes and cucumbers and top with cheese. Broil in the oven for 2 minutes, then remove and roll the wrap. Slice in half and serve.
Add a little Greek yogurt to your ranch dressing mixture to help thicken it and add a nice tangy bite!
Follow these directions from Epicurious for how to properly fill and roll a wrap sandwich!