Sage and Chive Pork Rub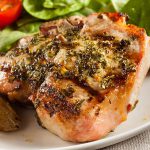 Looking for a fresh alternative to traditional BBQ sauce? This fresh sage and chive pork rub can be brushed onto your pork as a marinade, or just before cooking to add an herbaceous and earthy flavour to your dinner.
¼ cup olive oil
1 small bunch fresh chives
4 sprigs fresh sage
1 small sprig fresh rosemary
sea salt
peppercorns
Place washed herbs in a food processor and add 2 tablespoons of the oil. Pulse for a few seconds. Continue adding oil and pulsing until the herbs form a paste. Do not over blend. Add salt and pepper to taste.
Rub the paste on pork before barbecuing.