Fresh Herbal Tea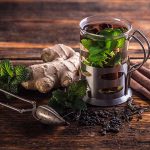 A cup of fresh herbal tea can do wonders for your health and sense of well-being. Try the combinations of herbs recommended below, or make your own original flavours of tea by combining your favourite herbs. Fresh is always best!
Have fun experimenting with Sweet Valley herbs.
Try catnip or lavender for a relaxing tea.
Use lemon verbena and stevia for a lovely iced tea.
Mint and ginger make a nice peppermint tea.
Tarragon gives a lovely liquorice flavour.
Thyme and oregano have antiviral properties and are wonderful if you're feeling under the weather.
Basil is another one you probably wouldn't think of. It has a great flavour and anti-inflammatory properties.
Use sage to calm an upset stomach.
And rosemary also has many healing properties.
Cut the stem off close to the ground leaving at least two sets of leaves on each stem so your plant will continue to grow. Or select only the tender new leaves at the top of the plant. Avoid yellowish or spotted leaves.
Wash the herbs under cold water or dunk them into a sink of cold water and shake off excess water. Remove the leaves from the stems for the best flavor and put them in a pot.
Pour boiling water over the herbs until they are just barely covered. Use a long spoon to carefully bruise the herbs by pressing the herbs against the sides of the pot. Place a lid on the pot and let steep for up to 30 minutes.
Strain the tea through a mesh strainer or colander.
Drink hot or chilled. A pot of tea can be refrigerated for about five days.