Refreshing Herbal Water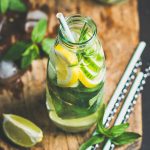 This refreshing drink is infused with a combination of fresh herbs and cucumber slices. It makes a wonderful presentation in a clear pitcher, wine carafe or a classic mason jar. Herbal water is the perfect drink for any occasion and can even be used to hide the unpleasant taste of city water.
6 cups chilled water or 6 cups mineral water
12 thin slices unpeeled cucumbers
4 lemons (thinly sliced )
4 sprigs fresh mint (slightly crushed)
2 sprigs fresh rosemary (slightly crushed)
Combine all ingredients in a 2 to 2½ quart pitcher. Cover and refrigerate for at least 2 hours.
Ice cubes may be added just before serving.
Get creative! Add your favourite berries, herbs or different varieties of mint. The combinations are endless!