Loaded Grilled Cheese Sandwich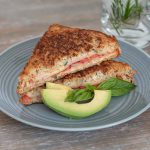 Grilled cheese sandwiches are the pinnacle of comfort food, no matter your age! This 'loaded' version of the classic recipe adds ham, cheese and fresh herbs and tomatoes for a protein-rich lunch or dinner that will have you coming back for more.
1 tablespoon butter
2 slices whole wheat bread
2 tablespoons ranch dressing or mayonnaise
1 teaspoon fresh lemon juice
1 teaspoon fresh basil (chopped)
1 teaspoon fresh oregano (chopped)
2 slices ham
2 slices cheese
4 slices tomato
sliced onion
sliced avocado (for garnish)
Melt butter in a pan over medium to low heat. You don't want it too hot or the bread will burn before the cheese has melted. Combine the ranch dressing, lemon juice and chopped basil and oregano. Spread onto slices of bread. Layer ham, cheese, tomatoes and onions on one slice and top with the second slice of bread.

Place in the frying pan. You can add a lid at this point to help trap the heat and melt the cheese. Cook for 5 minutes, then flip carefully. Remove from pan when the cheese has melted and the bread is golden brown on both sides.
Add a little Greek yogurt to the ranch dressing mixture to help thicken it and add a nice tangy bite.