Grilled Peppers and Herb Salad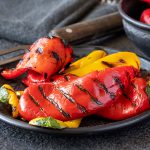 Make the perfect summer side dish with this grilled peppers and herb salad recipe. Bell peppers have incredible flavour, and when grilled, they come out smoky, tender and sweet. Top that with fresh herbs, cheese and a vinaigrette, and you have a winning recipe! Serve as an appetizer or a side dish for any meal.
3 each mini yellow, red, and orange peppers (cut in half lengthwise)
⅓ cup extra-virgin olive oil
3 tablespoons balsamic vinegar
2 cloves minced garlic
¼ teaspoon each salt & black pepper
⅓ cup crumbled goat cheese or feta cheese
¼ cup thinly sliced fresh basil leaves
Prepare grill for direct cooking. Grill peppers skin side down over low grill for 10 minutes or until skin is charred. Place peppers in shallow glass serving dish and set aside to cool. Combine oil, vinegar, garlic salt, and black pepper in small bowl, whisking until well combined. Pour over peppers, and let stand 30 minutes at room temperature. Sprinkle peppers with cheese and basil just before serving.